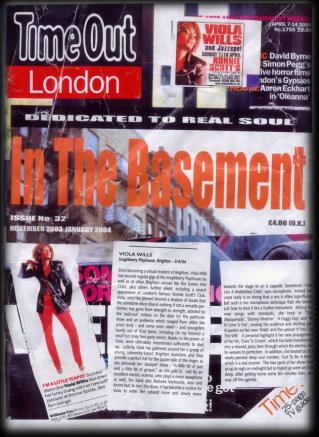 Joogleberry Playhouse, Brighton - 3/04/04
by David Cole of "In The Basement" magazine.
Since becoming a virtual resident of Brighton, Viola Wills has secured regular gigs at the Joogleberry Playhouse (as well as at other Brighton venues like the Sussex Arts Club), plus others further afield, including a recent appearance at London's famous Ronnie Scott's Club.
Viola, who has proved beyond a shadow of a doubt that the sometime disco diva is nothing if not a versatile performer, has gone from strength to strength, attested by the 'sold-out' notices on the door for this particular show and an audience which ranged from oldies like yours truly - and some even older! - and youngsters barely out of their teens, including (to my horrors) a small but noisy hen party which, thanks to the power of Viola, were ultimately mesmerised sufficiently to shut up.
Latterly, Viola has gathered around her a group of young University-based musicians and they provide a perfect foil for the jazzier side of the singer, as she delivered her 'Jazzspel' show - "A little bit of jazz and a little bit of gospel", as she puts it. Led by an excellent electric violinist, who plays a mean saxophone as well, the band also features keyboards, bass and drums but, to start the show, it has become a routine for Viola to enter the cabaret room and slowly move towards the stage to an acapella 'Sometimes I Fell Like A Motherless Child', sans microphone. Indeed her voice is really so strong that a mic is often superfluous but such is her microphone technique that she knows just how to treat it like a further instrument. Mixing her own songs with standards, she took in 'This Masquerade', 'Stormy Weather', 'A Foggy Day' and 'All In Love Is Fair', rousing the audience and eliciting participation on her own 'Walls' and the upbeat 'If You Got The Will'. A personal highlight is her new arrrangement of her hit, 'Dare To Dream', which has been transformed into a relaxed, jazzy item through which the electric violin weaves to perfection. In addition, she treated us to a newly-penned deep soul number, 'Got To Be A Man', which is a real stunner. The two spots of her show took us up to nigh on midnight but so hyped were we that sleep, after getting home some ten minutes later, was way off the agenda.